Location
500 Post Street corner of Post and Mason
San Francisco, California 94102 USA
1-415-771-8600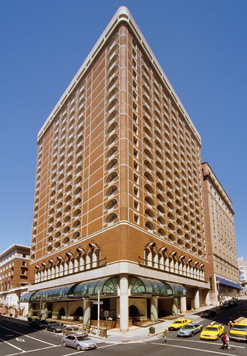 With a style all its own, the architecturally stunning JW Marriott San Francisco takes center stage in Union Square, the cultural heart of San Francisco. Step into a world of luxury complemented by the finest shopping and dining. Let loose your artistic sensibilities in a wide array of galleries, museums and theater experiences that will surely leave you longing to return to this posh San Francisco Hotel. Retreat to comfort and attention to detail in our spacious, sophisticated sanctuaries we call rooms. Health and wellness are the stars in our state-of-the-art fitness center and culinary talent commands our dramatic atrium, where food and libations are shared. All The City has to offer, including Moscone Convention Center, China Town and Nob Hill, is just steps away. When planning a gathering of the minds, your meeting goals will be met with sophisticated technology and exceptional catering, and for special occasions, we indulge your every whim for a lasting memory that will keep your heart in The City.
Stellr (TeraTech, Inc.)
2009. All rights Reserved.
TeraTech Inc 405 E Gude Dr Ste 207, Rockville MD 20850
301.424.3903 Fax 301.762.8185