Express CFUnited!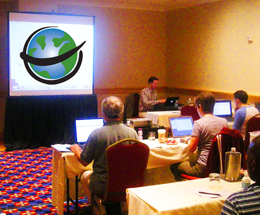 Express CFUnited is an all day event where developers in their field have a rare opportunity to learn the latest ColdFusion and Flex techniques from the experts. This day promises not to disappoint. So break your routine and join us.
By attending a CFUnited, you will join a community of thousands of developers just like you. Our plan is to unite the community and encourage excellence in programming and create tools to exhibit talented individuals.
If you missed the opportunity to attend the CFUnited 2008, take advantage of Express CFUnited because we're coming to a location near you. Don't worry, if you're going out of town, extend your trip and catch the event where you'll be. It's too good to miss. Trust us! See you there.
Top 10 reasons, plus one more, to attend
Meet the experts and throw them a fast one during the Q & A session
Apply 100% of your Express payment towards CFUnited 2009
Network with your peers
Receive a host of session material that will make others jealous
Get local user group information and sign up for a nominal fee
Beginner? Expert? You're covered. There's a little bit of a lot for everyone.
Get a taste of the biggest event in ColdFusion history, CFUnited 2009
Location! Location! Location! We've made this trip just for you.
Spread the knowledge.
Learn techniques that will make your life easier and a few other perks.

Feel full - In addition to the good company, you'll be getting good food

Good chance to win a prize at our raffle
Stellr (TeraTech, Inc.)
2009. All rights Reserved.
TeraTech Inc 405 E Gude Dr Ste 207, Rockville MD 20850
301.424.3903 Fax 301.762.8185